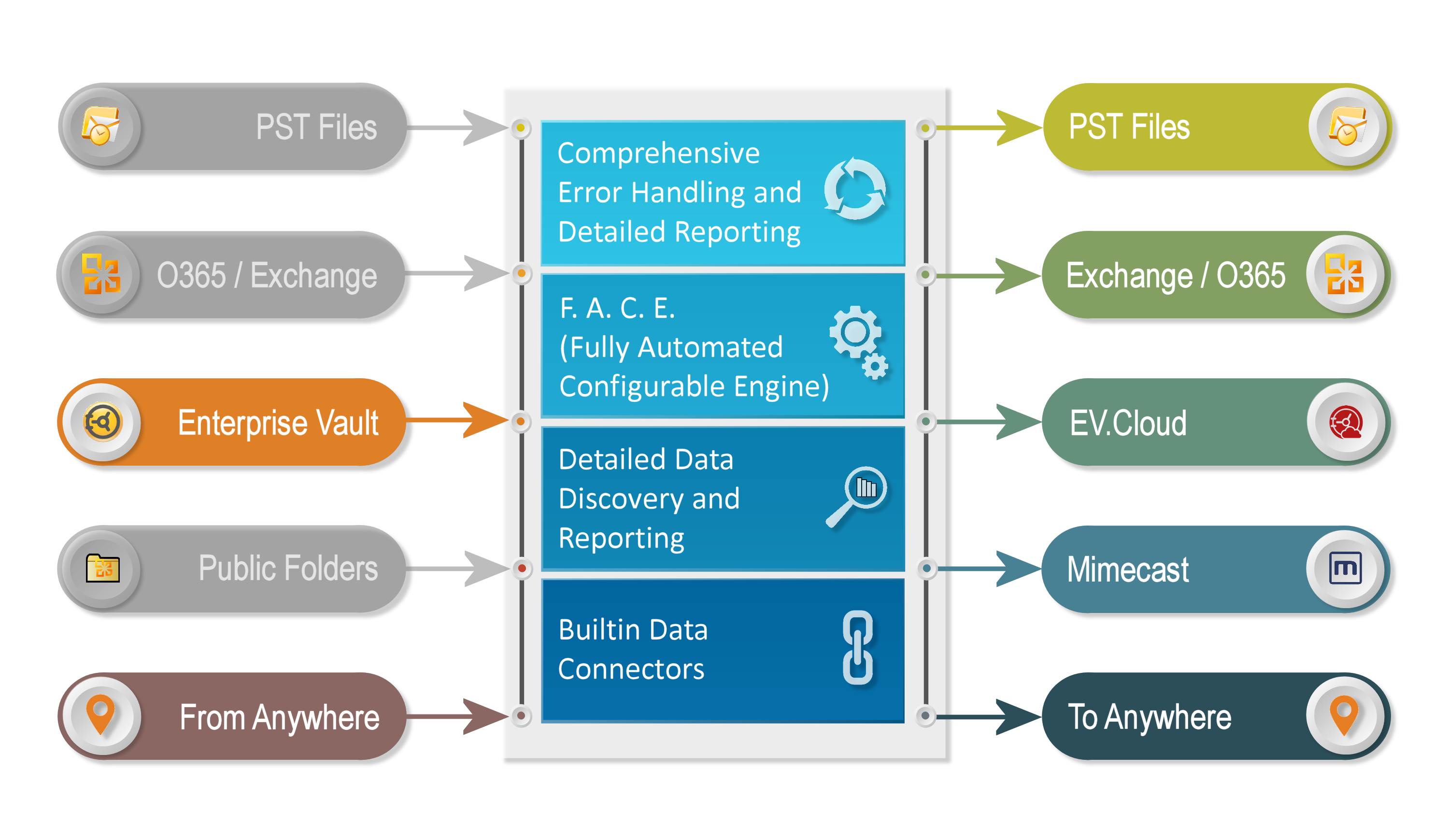 Archive Migration
The Issues
In today's modern data messaging architecture, legacy archive solutions such as Enterprise Vault, Zantas EAS and Source One are rapidly becoming an unsuitable storage medium within a corporate environment. On the other hand the new breed of cloud based archive solutions such as Mimecast and EV.Cloud are becoming commoditised. Yet, with the prolific nature of emails and the sheer volume sent on a daily basis, coupled with requirements to keep years worth of history, organisations find they need somewhere cost effective to store them. Archive migration helps to mitigate the issues associated with archive data that include:
Unreliable
With technological advances, legacy archives are often at breaking point. With this comes a risk of data corruption which requires specialist intervention, often resulting in a loss of data.
End of Support
With changing technology and the move to cloud based solutions, many legacy archive products now have limited vendor support if any.
Costly to Store
With the astronomical volumes of data, organisations find that legacy archive solutions can be extremely costly to maintain, not only from the point of storage costs, but also from a licensing view.
Inaccessible
With the increased use of web-based email clients, smart phones and other methods for accessing data, emails found within legacy archives can be impossible to view as only Outlook can be used to open them.
The only way to mitigate the risk of data loss and ensure seamless connectivity from newer technologies is to migrate the data to a new centralised system such as Office 365, Mimecast, EV.Cloud or one of the other numerous alternative archive providers. This provides centralised access as well as comprehensive search and reporting functionality. Archive migration into a central repository can however be fraught with issues such as a lack of native tools, corruption, owner identification and data from staff who have left the organisation. Thankfully, help is at hand!
Owner Assignment
Depending on the archive source, ownership miss-assignment may be an issue, especially when manual methods are required. Our complex algorithms and rules engine ensure integrity and accuracy.
Automatic
With the potential of thousands of archives to manage, manual discovery is generally not an option. Our software has been built to automatically locate the archive data anywhere, even if hidden away in mailboxes or in the file system.
Distrubuted Architecture
With potentially large volumes of data, legacy archive solutions are often a major bottleneck. Our distributed architecture maximises throughput, moving data as quickly as possible.
Detailed Reporting
The discovery process analyses source archives and collects data such as size, message count and location. Inbuilt reporting allows detailed project planning.
Scheduled Archive Migration
Built-in Connectors
Message data migrated to destinations such as Exchange, O365, Mimecast, EV.Cloud and many more are transferred directly from source to destination via a series of built in connectors.
Intelligent Error Handling
Administrative intervention is minimised and issues flagged up quickly via intelligent error recovery and reporting functionality.
Full Control
Built in scheduling, batch management and detailed control of message types and dates, plus comprehensive progress reporting provides full project control from start to finish.
Multi Threading
Ensures that the migration is performed in the most effective way, reducing time and cost.
The Results
Once the source archives have been migrated to a centralised system such as Office 365, Mimecast or EV.Cloud, the data that was once at risk is now held in a searchable and manageable central location. From here it can be tracked, is secure and significantly is GDPR compliant. Key deliverables include:
Complete Overview
A complete picture of your organisation's historical email data
Secure and Compliant
Improved data storage security and ensured GDPR compliance
Cost Reduction
Reduced licensing and infrastructure costs
Automated and Auditable
Timely, cost-effective and compliant project delivery