PST files, also known as Personal Folders or Archive Folders, are no longer a suitable storage medium within a corporate environment. PST migration helps to mitigate the risks associated with PST files that include:
They are vulnerable to corruption resulting in data loss
Have limited potential for recovery
PST files have a massive impact on backup
Often require specialist intervention
Can contain sensitive corporate data that cannot be searched centrally
Have no centralised management
PST files greatly increase storage requirements
and the list goes on …
Despite the dispersed and uncontrolled nature of PST files, the information contained within them still falls under Compliance Management in the same way as message data contained in any email system. However, PST migration into a central repository can be fraught with issues, such as password protection, corruption and files from staff who have left the organisation.
With the following approach, Ultimate Migrator addresses the above issues, while making the PST migration project easy to manage thanks to the extensive reporting, roles based administration and a web-based management console.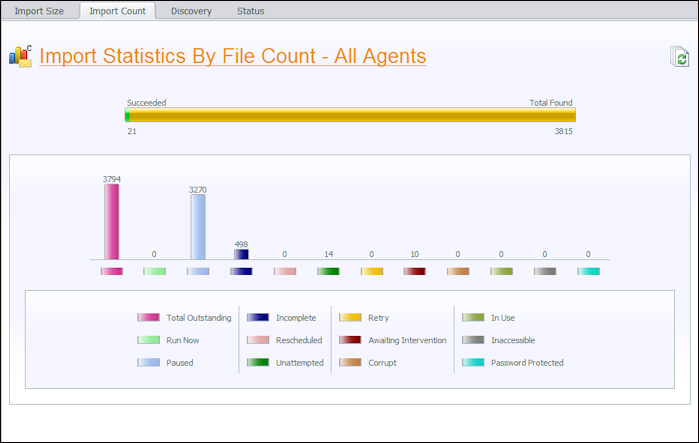 PST Migration Steps
1) Locate the PST files
Discovery is a critical first stage of the PST migration process. While smaller companies may be able to locate all PST files manually, medium to large organisations with tens or even hundreds of thousands of PST files located on servers, workstations and laptops are likely to struggle. Not only would this be a thankless task, but manually assembling lists containing this volume of files is prone to human error. Moreover, many applications use the .PST file extension meaning that not all files with this extension actually contain messaging data and should obviously be ignored.
Our distributed architecture allows us to find files wherever they are located, be it centrally or hidden away in a regional office. Ultimate Migrator also checks that the file found is actually an Outlook file before adding it to our database, thus ensuring reports detailing your PST estate are accurate.
2) Assign owners
Ultimate Migrator uses complex algorithms to determine PST file ownership, taking many factors into account during the discovery process. Because the process is fully automated and allows one or more rules to be set, the possibility of miss-assignment is drastically reduced if not eradicated entirely.This provides confidence that the right file has been associated with the right individual, the PST migration will not place the messages in the wrong destination, and simplifies the project even further.
3) Scheduled PST Migration
The final stage is the PST migration itself, where the PST file is moved or copied into the destination. This can be done on a scheduled basis, is multi-threaded and can be to one of a number of destinations including Enterprise Vault, Microsoft Exchange, Office 365, Symantec.cloud or MimeCast to name but a few.
We understand that issues might occur along the way during the PST migration such as corrupt messages, network issues between source and destination and space limitations. As a result, error handling is designed into the product from the ground up, with configurable retries, skipping and reporting of corruptions and the management of space quotas all built in as standard.