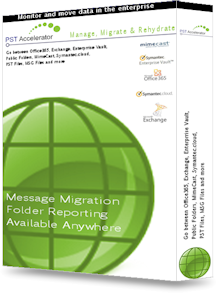 We are pleased to announce that our latest release is now ready for download.
Release Details
Version: 2.6.16 Release Date: 19 January 2016
Release Notes
A new version of redemption has been released. This brings the following updates and fixes:
fixed – changing retry count sometimes hid archives in the awaiting intevention queue.
added – increased logging for shortcut rehydration
added – additional error retries
fixed – autodiscovery correctly limits workstation machine list when sites mode is selected
added – new version of Microsoft.Exchange.webservices.Dll
added – additional logging to DVE scanning
updated – performance tweeks for public folder scanning
Downloads
Please log into the reseller portal in order to download the software.